Lakita, Painting and Life
Lakita lives and paints in the valley of Vaillac, in the heart of the Lot Regional Park, south west France. Using a fluid oil painting technique, her work expresses movement, colours, and the sounds of Nature. She feels that "painting instantly creates a shared space that communicates the subtleties of our inner Nature". Her paintings are sold locally as well as generally in France and abroad.
---
Nature is the guiding thread
Lakita's career path starts not in art but with science, specifically plant and molecular biology, working for 8 years as research and development manager in the food industry in England. Her work in this area of science inevitably leads her to nature and to a special connection with the living world. A fascination that can be found in each of her paintings, for example the first ones inspired by the wildness of northern England.
Dance and Ki at the crossroads
At the same time as following a scientific path, Lakita explores dance and particularly the 5 Rhythms®, a shamanic dance developed by American, Gabrielle Roth. This approach allows her to explore the movement and rhythms of the human body.
Gradually, Lakita focuses on art and bodily awareness. She then follows the teaching of Zen Shiatsu, a Japanese healing art, stemming from the master Masunaga. She thus develops a sensitivity to the vital energy called Ki and from 1995 practises it in England and France in clinics as well as in her own practice
Time of Maturity
It is after her meeting with White Wolf (Loup Blanc), a composer, musician and photographer, that she discovers the self-fulfilment of painting that expresses her true inner nature.
She then leaves the North of England and studies oil painting for 3 years at the Fine Arts school in Toulouse, including the preparation of canvases and colors following the traditions of Renaissance Masters.
She sets up her studio in the Lot, in the Causses regional park. Her painting is mostly direct from nature and inspired by trees. It is both realistic and imaginary. After her travels in Peru, she introduces stronger colours in her canvases. Recently Lakita set up a studio in Belle-Île-en-Mer, resulting in new works reflecting the energy of the sea and shore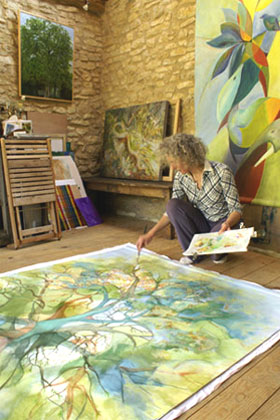 The name Lakita is centered on the Ki,
the vitality of the 5 elements
through her work.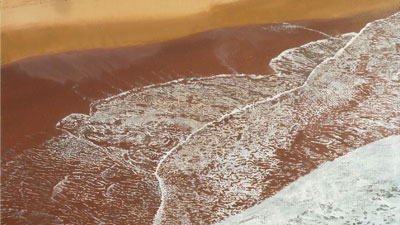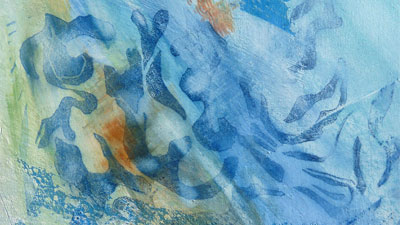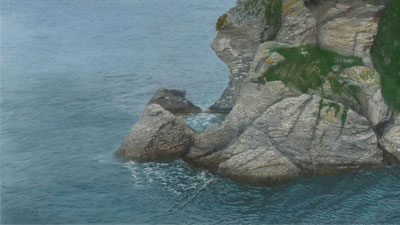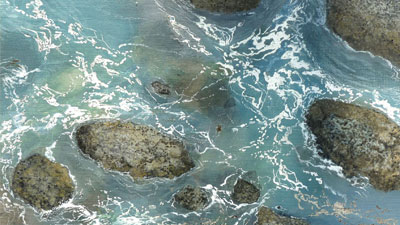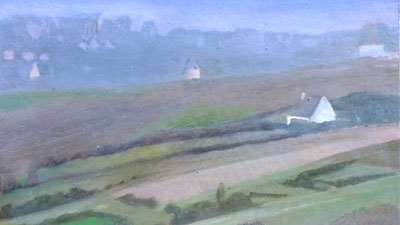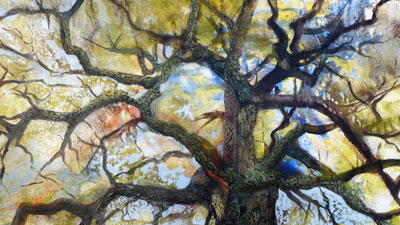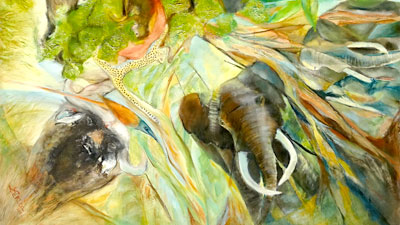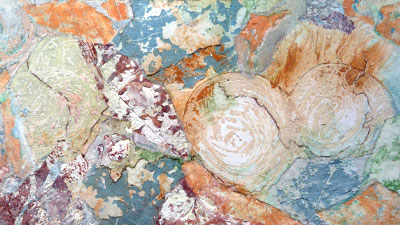 ---
Hélène Blandin's path
From molecular biology to painting

Exhibition in Britany
Works and exhibits on the island of Belle-île-en-mer.

Fresco with Solène Delahousse
Training in the ancient technique of fresco with Solène Delahousse at Conservatory of Ocher and Color Okhra. Representation by the Arbouge Gallery in Labastide-Murat (Lot).

Artistic nude
Work with life models.

Pastel with Penelope Milner
Workshop (oil and pastel) with Pénélope Milner, master pastellist. Representation by the Arts et Voyages Gallery in Collonges-la-Rouge (Corrèze).

Oil with Claude Yvel
Training in oil painting with Claude Yvel. Representation by G.Rambaud Gallery in Paris.

Oil with Françoise Utrel
Workshop (oil) with the painter Françoise Utrel in Cahors.

Professional set up
Exhibits regularly in France.

Fine Art school
Training in oil painting in the Fine Art school of Toulouse.

Dance practice
With the 5rythms® of Gabrielle Roth.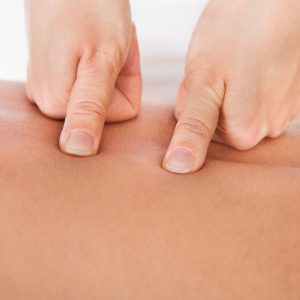 Shiatsu practice
Diploma in Shiatsu (japonese art of healing using finger pressure). Member of the english then french Shiatsu federations. Professional practice and teaching since then.

Engineering degree
Engineer's degree in Agro-Food at the Nancy E.N.S.A.I.A – Head of Development and Innovation in the industry.

Bachelor's degree in Biochemistry
Bachelor of Biochemistry and Molecular Biology at the University of Strasbourg.